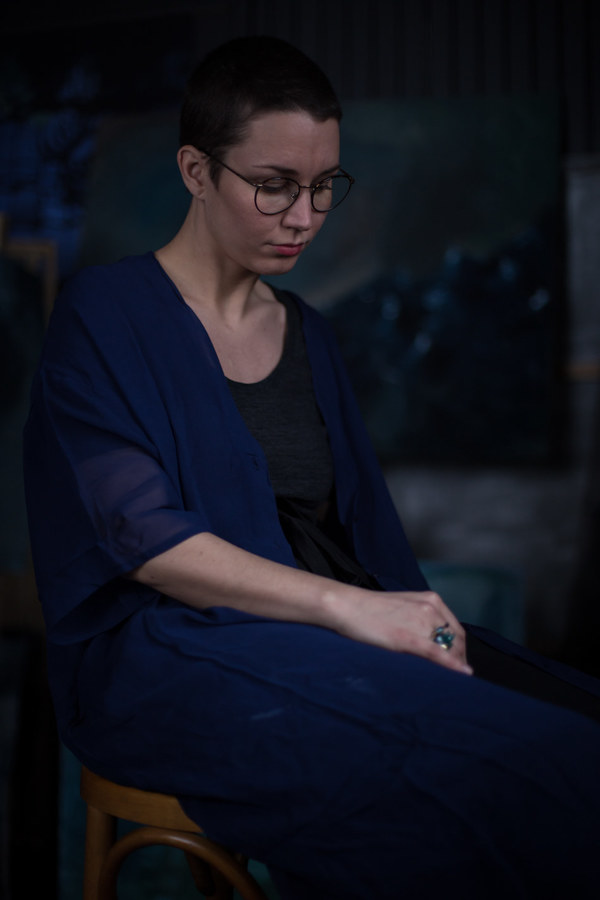 Bio and artist statement
News: My painting "Madame Clamour", which also serves as the illustration on the cover of the vinyl album with the same name, was nominated as one out of six cover designs in The Independent Music Awards in NYC march 2018.
All my paintings are self-portraits. A visualization of the feelings of self given trough intense personal challenges. I paint my emotions and negative chatter in my mind, and I think the truth is coming out in the prettiest possible way.
I don't make plans for my paintings, they just happen. Every single moment I use my paintbrush, I'm in a state of flow. My favourite part is always when I see someone is "born" on my canvas – it's like a soul comes and takes place in it. The personalities makes my atelier change energy and mood from one minute to another, and it fascinates me big time. I also find a lot of comfort in my creatures.
My paintings are my clearest way of expressing myself, and they can make you experience deep emotions - the sensation of strangling within, discomfort and unpleasant moods and memories. I also find freedom in working big, it feels so brave, but still less demanding than smaller canvases.
My blog where I share things by heart, write personal texts and photograph: villabetula.com
Productions of paintings, music and film
Paintings (for details look here, for artwork shop look here):
Selfportrait#1 Collar Me Up, 2018
What Love Does With Me, 2018
Waves, 2018
Mama Cried An Ocean, 2017
Hello October, 2017
Notice Resistance, 2017
Grounding, 2017
Sideshow, 2017
Madame Clamour, 2016
Music productions (grablomst.com, both on streaming services and vinyl):
June '17 - Gråblomst – Madame Clamour – co-composing, lyrics, vocals, producer, synth, artwork
September '15 - Gråblomst – Mr. Shrimp – co-composing, lyrics, vocals, producer, double bass, artwork
Parts of the film music for the short films Carousel Animus, Promissum, Semivivo and Operation Restoration
Short films and documentary productions (our production company Filmens Uthus AS):
Zhar Chocolate - The making of zephyr - stylist, script, director, photographing
My Hopeless Star – documentary in development
Promissum - short film – script and producer (film festivals: Kansas International Film Festival, and prize for best script at WENIFF and representing Norway in 'One country one film' festival)
Carousel Animus, short film – director and script
Candy Driver, music video for Gråblomst – director
Not Quite Right, music video for Gråblomst – director
Operation Restoration, 27 minutes short film with puppets - co-producer
Semivivo, short film – idea and director