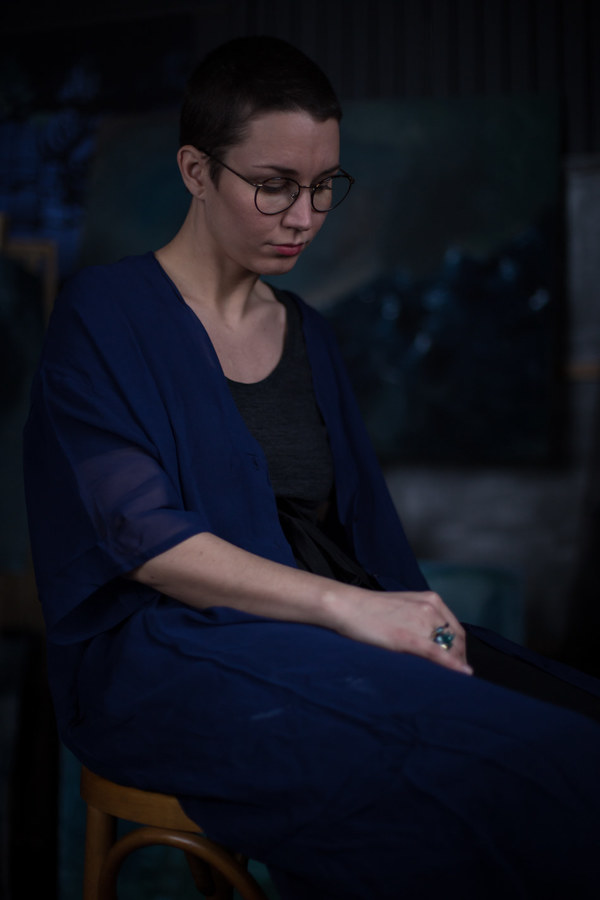 Bio and artist statement
All my paintings are self-portraits. A visualization of the feelings of self given trough intense personal challenges. I paint my emotions and negative chatter in my mind, and I think the truth is coming out in the prettiest possible way.
I don't make plans for my paintings, they just happen. Every single moment I use my paintbrush, I'm in a state of flow. My favourite part is always when I see someone is "born" on my canvas – it's like a soul comes and takes place in it. The personalities makes my atelier change energy and mood from one minute to another, and it fascinates me big time. I also find a lot of comfort in my creatures.
My paintings are my clearest way of expressing myself, and they can make you experience deep emotions - the sensation of strangling within, discomfort and unpleasant moods and memories. I also find freedom in working big, it feels so brave, but still less demanding than smaller canvases. My next big project though is to make about 60 small paintings, 30 x 30 cm, making unique artwork on every sleeve on my band Gråblomst's third vinyl album. The plan is to make a gallery tour where we play live where we're having exhibitions. So excited about that!
My blog where I share things by heart, write personal texts and photograph: villabetula.com
Productions of paintings, music and film
Paintings (for details look here, for artwork shop look here):
Mama Cried An Ocean, 2017
Hello October, 2017
Notice Resistance, 2017
Grounding, 2017
Sideshow, 2017
Madame Clamour, 2016
Music productions (grablomst.com, both on streaming services and vinyl):
June '17 - Gråblomst – Madame Clamour – co-composing, lyrics, vocals, producer, synth, artwork
September '15 - Gråblomst – Mr. Shrimp – co-composing, lyrics, vocals, producer, double bass, artwork
Parts of the film music for the short films Carousel Animus, Promissum, Semivivo and Operation Restoration
Short films and documentary productions (our production company Filmens Uthus AS):
Zhar Chocolate - The making of zephyr - stylist, script, director, photographing
My Hopeless Star – documentary in development
Promissum - short film – script and producer (film festivals: Kansas International Film Festival, and prize for best script at WENIFF and representing Norway in 'One country one film' festival)
Carousel Animus, short film – director and script
Candy Driver, music video for Gråblomst – director
Not Quite Right, music video for Gråblomst – director
Operation Restoration, 27 minutes short film with puppets - co-producer
Semivivo, short film – idea and director